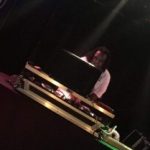 @ladyd302
active 2 months, 2 weeks ago



2234
Dee-N-Dee Productions Recording Studio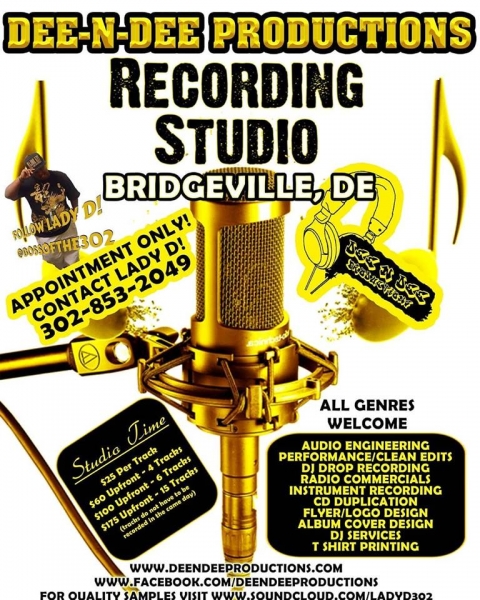 If you do not have a studio to call home consider Dee-n-Dee Productions in Bridgeville, DE. All recording includes mixdowns and editing.
The rate for recording is $25 per song, however, There are several deals for paying upfront!
$60 UPFRONT – 3 TRACKS
$100 UPFRONT – 6 TRACKS
$175 upfront – 15 TRACKS
$300 (can be paid in two $150 payments) – 15 TRACKS + 1 MUSIC VIDEO + PHOTOSHOOT
*Upfront prices do have to be paid for upfront but all songs do not have to be recorded in the same day
MY STUDIO IS MOBILE. IF YOU NEED ME TO COME TO YOU STUDIO TIME IS $25 PER HR WITH A MINIMUM OF TWO HOURS!!!!! TWO HRS PAID FOR UPFRONT
FULL MIXDOWN IS ALWAYS INCLUDED WITH RECORDING!! RADIO EDITS OF YOUR TRACK ARE $5 AND PERFORMANCE VERSIONS ARE $3!!!
Looking for more than just a studio? Don't put your music career in the wrong hands with false advertisement and unrealistic expectations! Ask about how you can become a part of our team or ask about HOD management! Where we pride ourselves in being very professional, affordable, and honest!
If you are interested in the services we provide contact me via http://www.facebook.com/deendeeproductions or at Demetrsp@gmail.com
To hear studio quality visit http://www.soundcloud.com/ladyd302