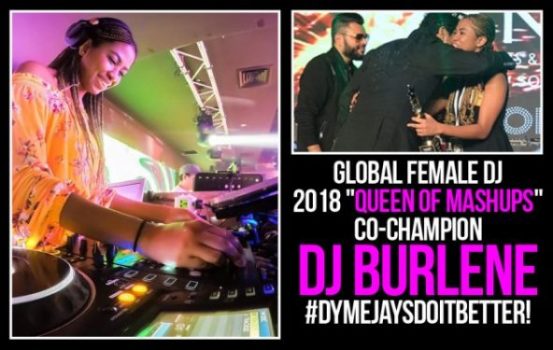 DJ BURLENE THE 2018 QUEEN OF MASHUPS
On August 15, 2018 at the J W Marriott, Sahar Mumbai "SOS Nitelife" presented the Queen of Mashups 2018 completion with DJs from nine countries participating in the global finals.
The finalist were DJ Katty Q from Russia, DymeJays own DJ Burlene based in Dubai, DJ Dona Amelia from Jakarta – Indonesia, DJ Natalia Moon from Australia, DJ Miss Faith from Holland , DJ Pasha Doll from Russia, DJ Neit Kaur from India, DJ Aashikaa Mirza from India, DJ Blondie from USA, DJ Lopa Nova from India, DJ Farah Farz from Singapore, DJ Vixen from Canada, DJ Farmeen based in Qatar and DJ Linda Erfolg from Germany.
At the end of the competition Dj Burlene along with DJ Natalia Moon emerged victoriuos as co-champions!
click the link below for more info about Dj Burlene #dymejaysdoitbetter!