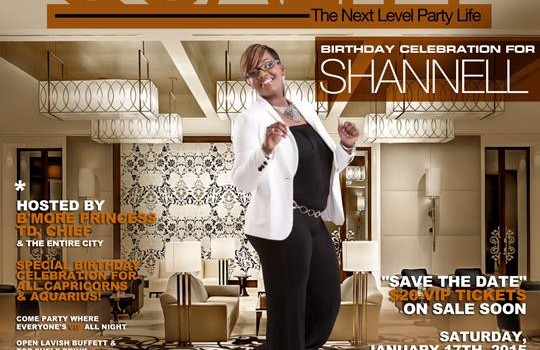 QUALITY DJ SHANNELL B's BDAY CELEBRATION
ATIF ENT|MIMI THE BRAND|DERRICKTHE HANDSOME ONE Present
QUALITY | THE ULTIMATE CLASSY EVENT!!
SAT JANUARY 17TH | MUSIC BY DJ KENNY K | HOST BY THE FIRM/ BMORE PRINCESS/CHIEF AND TD
THIS IS CLASS! THIS IS UPPER ECHELON! THIS IS MAJOR! YESSSSS THIS IS QUALITY!!!
BIRTHDAY CELEBRATIONS FOR FIRSTLADY QUINETTE, SHANNELL,LISA, CRISSY,JAMIE,BUFFY SHANEL,CHENISE, JACKIE AND MANY MORE!!!!
O Yes we are also are having a $5 Raffle For 5 day Get away to Cancun Mexico!!! Now you see we not playing DMV GET READY! ITS COMING!
TICKETS $20 ON SALE NOW….. THINK EARLY THEY WILL GO FAST 410.302.0428 FOR YOURS