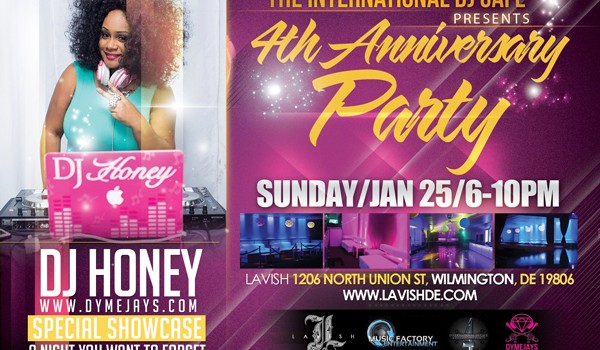 The International DJ Cafe 4 Year Anniversary Party
The International DJ Cafe Presents! Their 4 year anniversary Party! Sun Jan 25th 6-10PM Followed by After Party til 1AM! Admission $15 free to those that donate to the DJ CAFE KITTIE!
@Lavish 1206 N Union St, Wilmington, Delaware 19806.
This year the are having a Female DJ Showcase featuring some of the best female dj along with DJs sets from some of the hottest DJs in their network from all chapters!
Featuring
DJ Dior Cartel (House DJ) | Lady DJ Slim | DJ Ali | DJ Lady Essense | DJ Hytech | DJ Reddz | DJ C Dub | DJ Torch | Dj Honey | DJ Brick House | DJ Shorty Love | DJ Cuzin B | DJ Shorty Wop | DJ Sparkle
Also Featuring
DJ Shorty T | DJ K Swift | DJ Sinbad | DJ Philly Black | DJ Emaculate | Grandmaster Supreme | Grandwizard Snake | DJ Mell Star | DJ Remedy | DJ Getto
All Hosted By DJ SpeedRock